1. Introduction
2. Login To SiteGiant POS
3. Add Product To Cart
4. Apply Discount To Entire Cart
5. Add Remark
6. Add Custom Sale
7. Payment
8. Additional Information
1. Introduction
The primary function of the SiteGiant POS is to ring up sales, so you need to familiarize yourself with the process of adding items to the sale by scanning the product's barcode or searching it on the product list. From there, you can adjust the quantities depending on how many units the customer buys. Other than that, you can apply discounts to the product or the entire cart if you're running a sale. And lastly, the payment process and print invoice for customers to complete the order.
---
2. Login SiteGiant POS
Step 1: Login your SiteGiant POS system on your device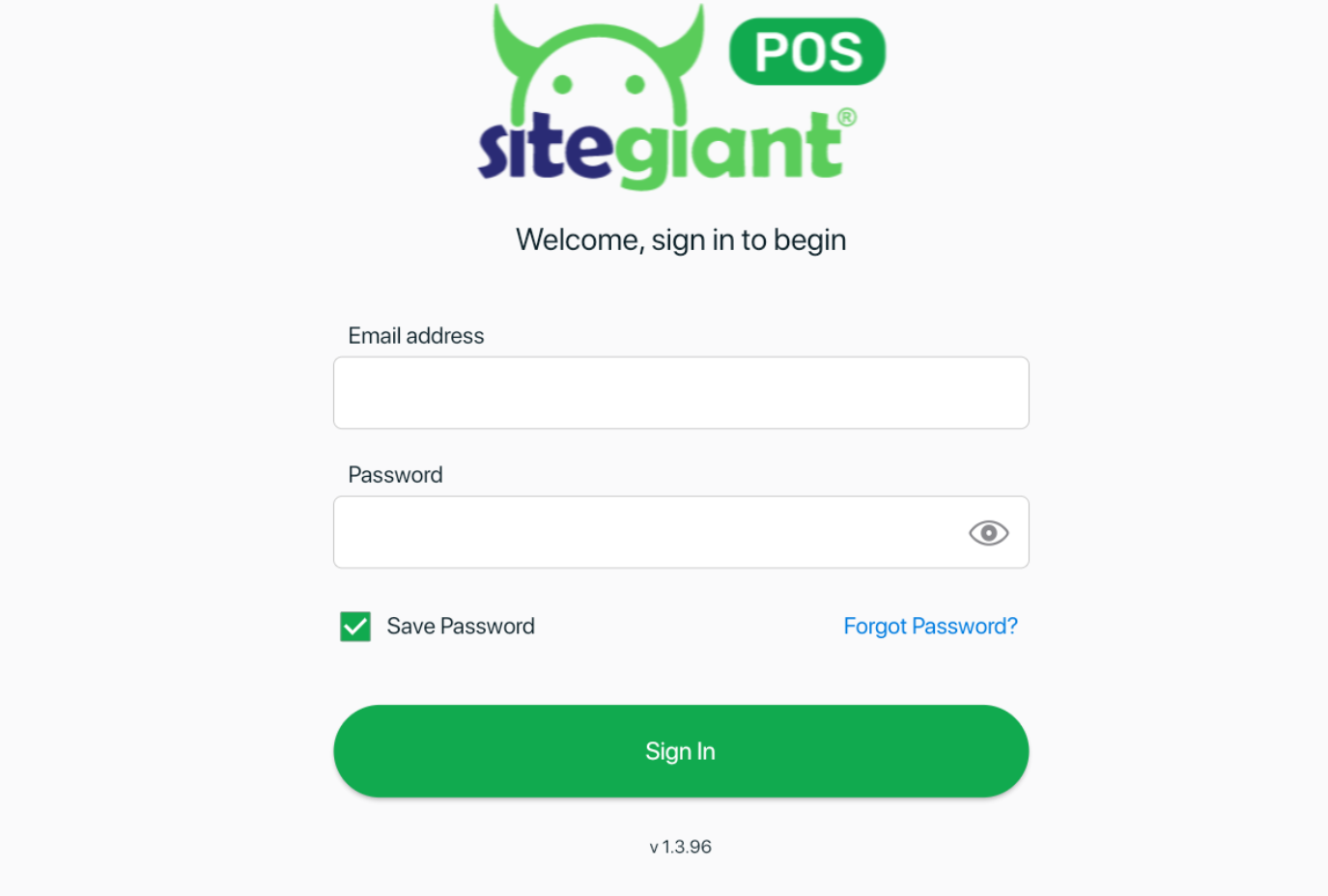 📌Note: Kindly use the SiteGiant ERP login credential to log in SiteGiant POS
Step 2: The SiteGiant POS interface is as shown: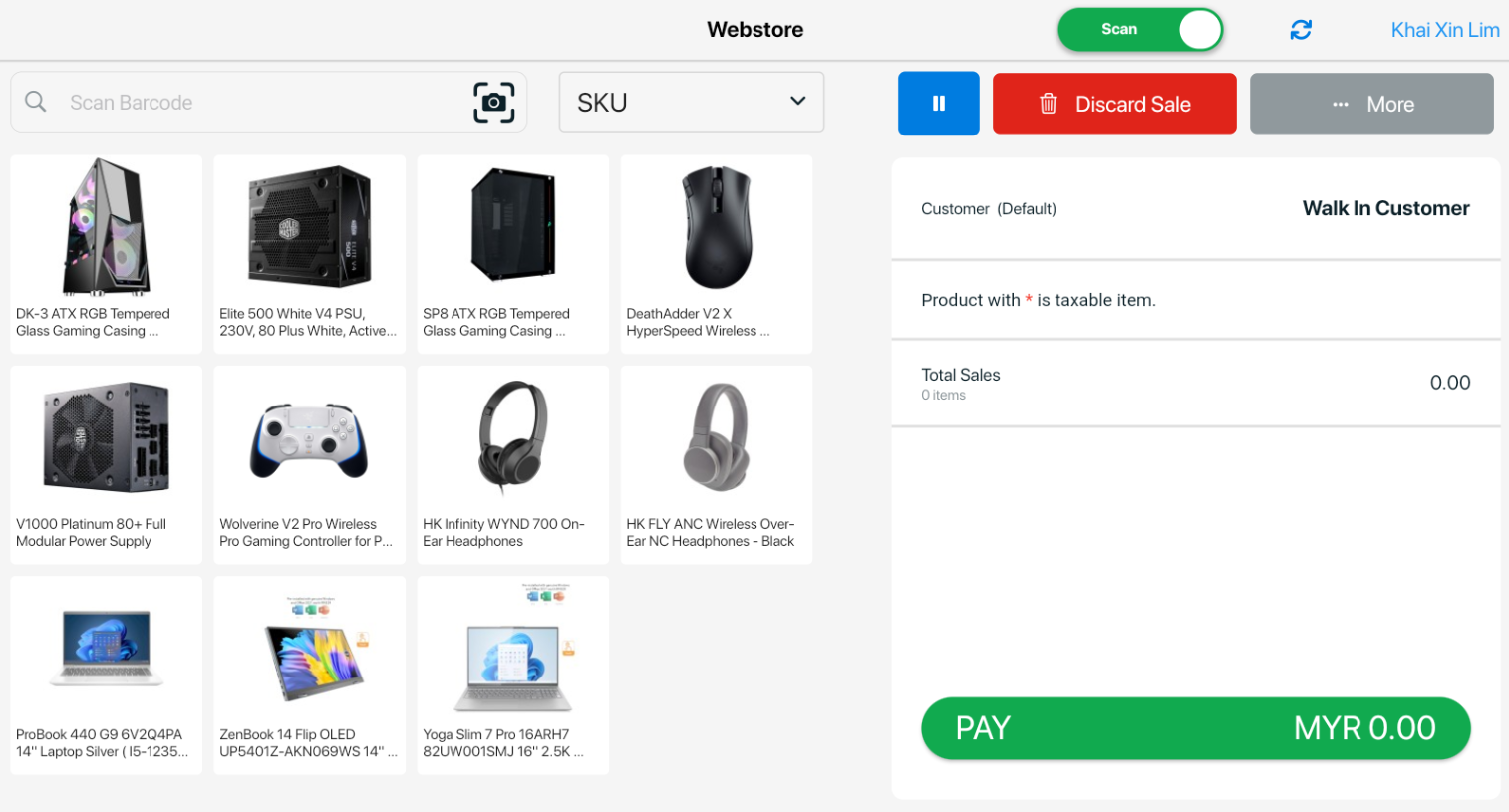 ---
3. Add Product To Cart
Step 1: Click on the product to add to the cart > select the option if your product has variants > adjust the quantity > apply discount for this particular product if applicable > Add to Cart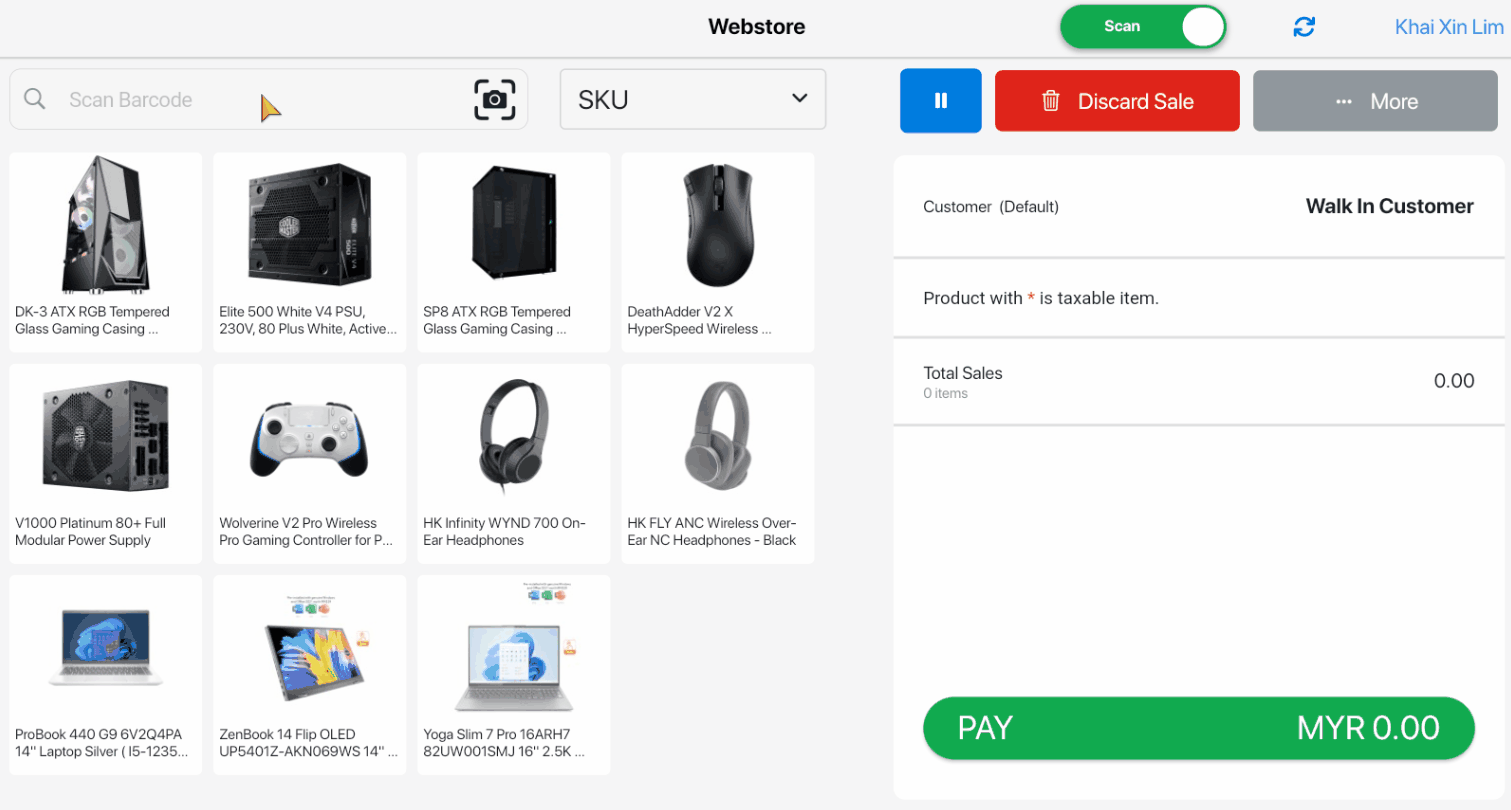 Step 2: If you would like to modify or remove the product from the cart, you may click on the product to modify and Update Cart or Remove from Cart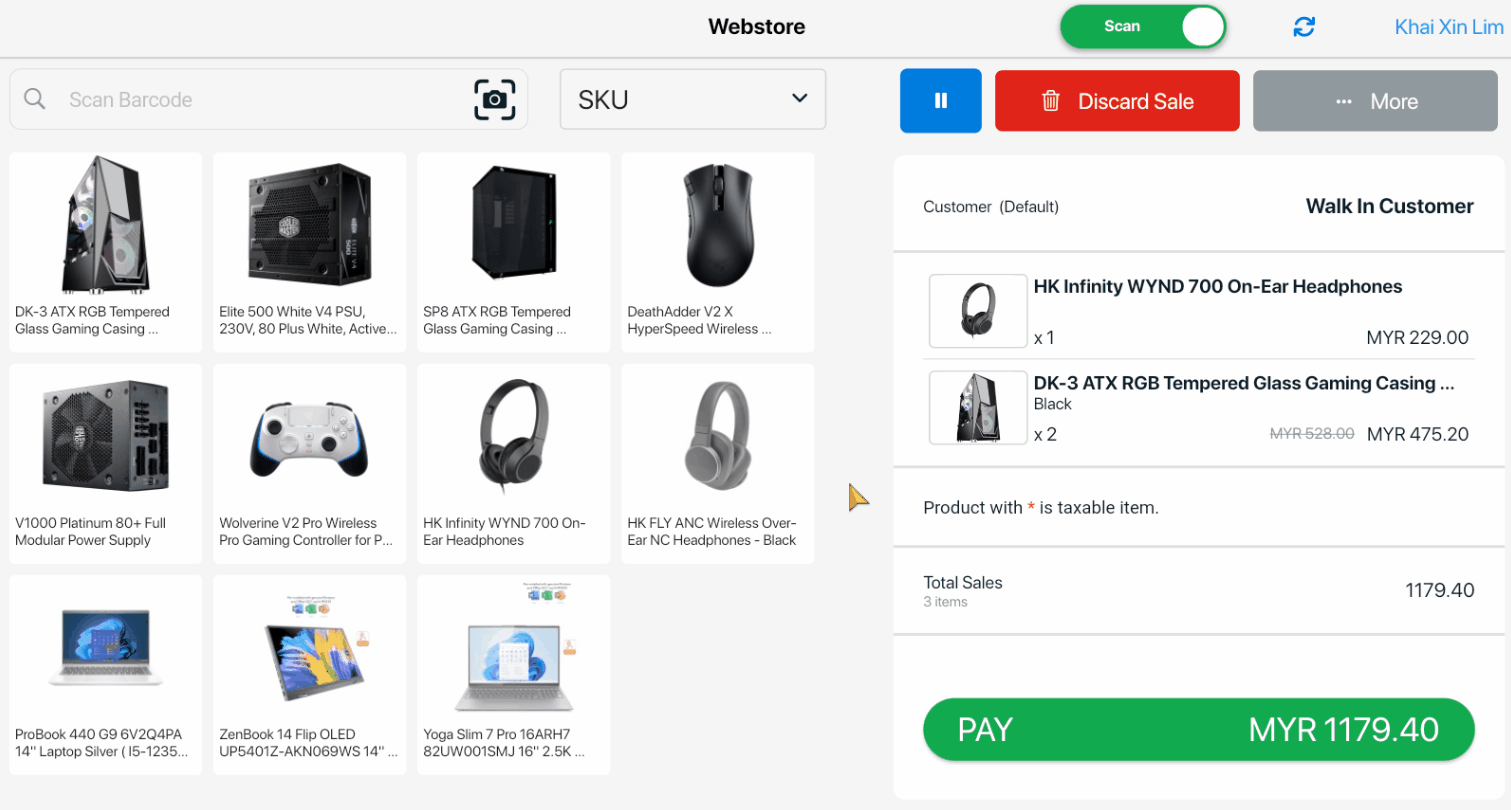 Step 3: If suddenly the customers change their mind about the purchase, you can click on Discard Sale to clear all the products from the cart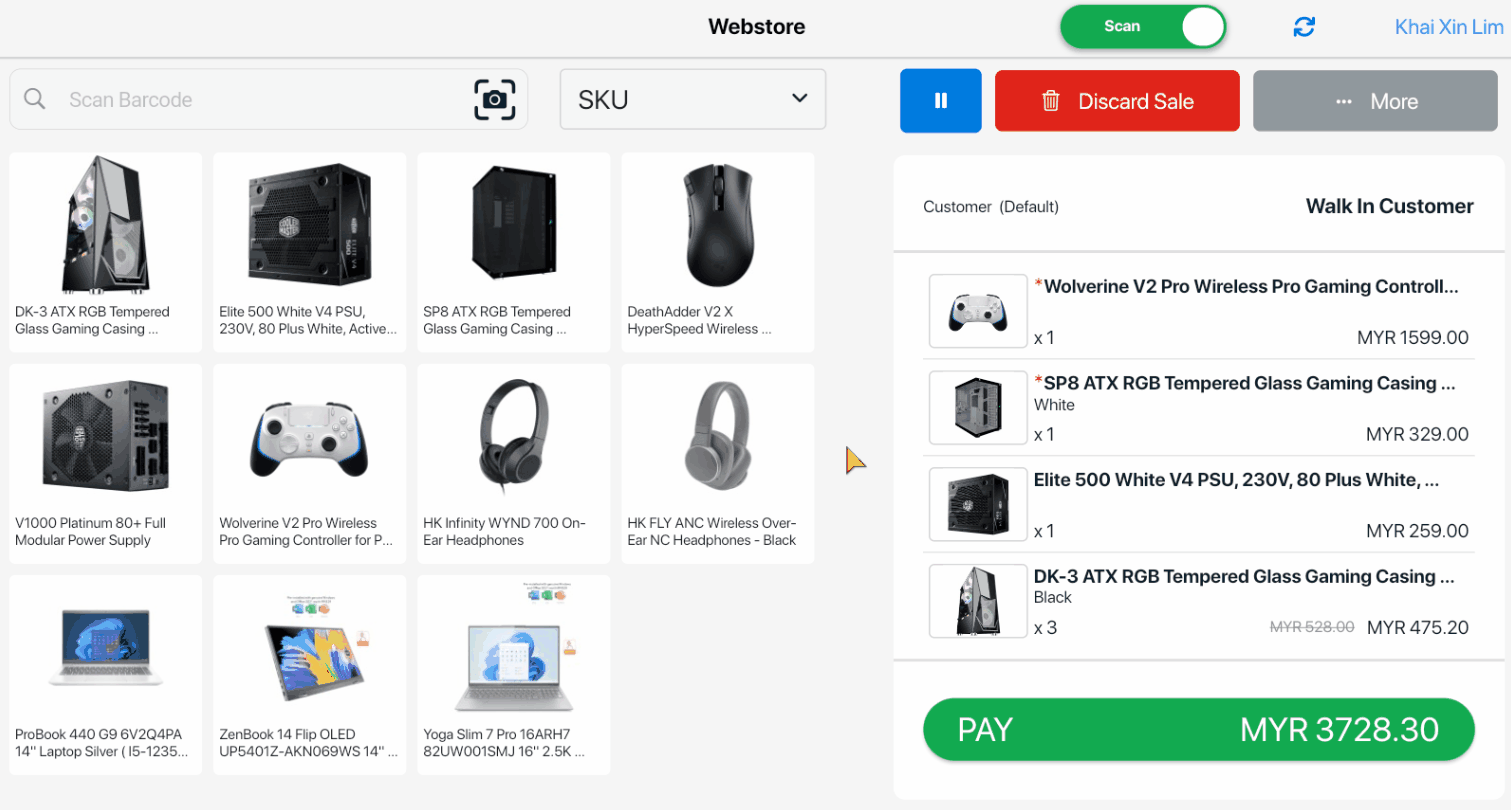 Step 4: If the customer not ready to make payment after checkout, you may Hold Order and proceed with new order > when ready to make payment, may click More > Holding List
---
4. Apply Discount To Entire Cart
Step 1: Click on (…) More > Apply Discount > choose whether to discount by Percentage or Amount > insert the figures > Apply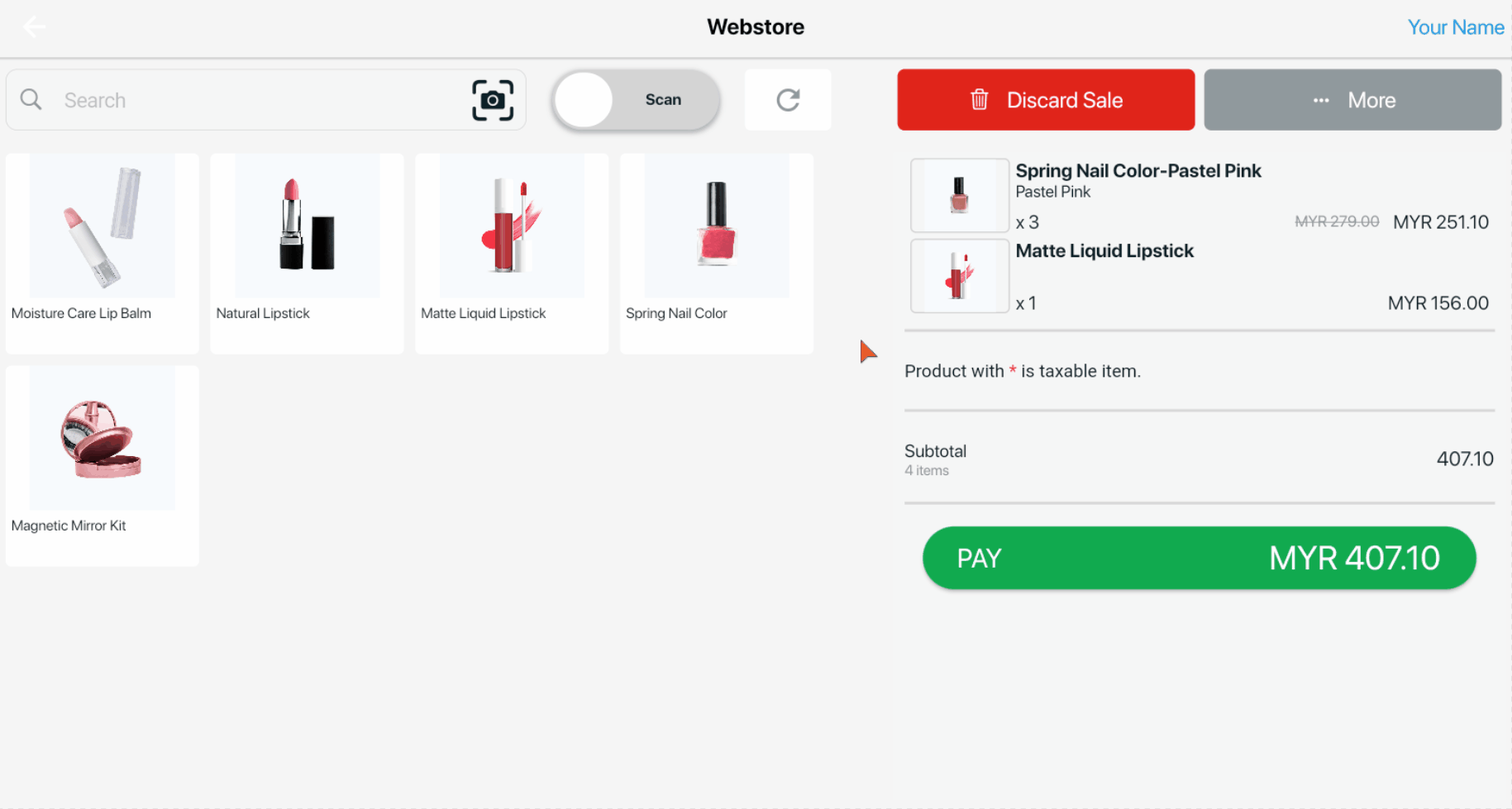 ---
5. Add Remark
Step 1: Click on (…) More > Add Remark > enter the remark > Apply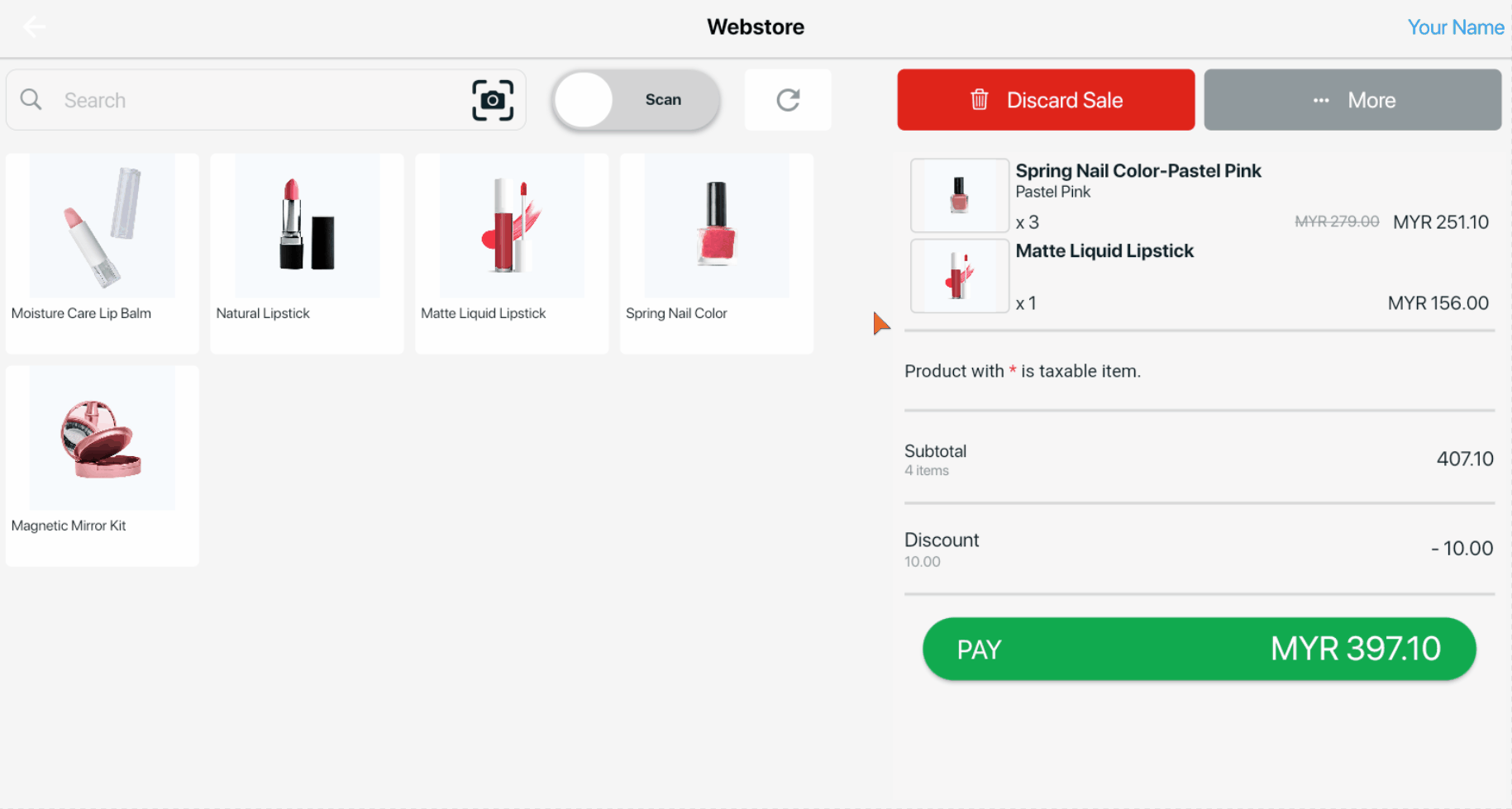 ---
6. Add Custom Sale
Step 1: Sometimes you might need to add sales for other products that not in the product list or inventory
Click on (…) More > Add Custom Sale > fill in the Product Name, Price and Quantity > Add to Cart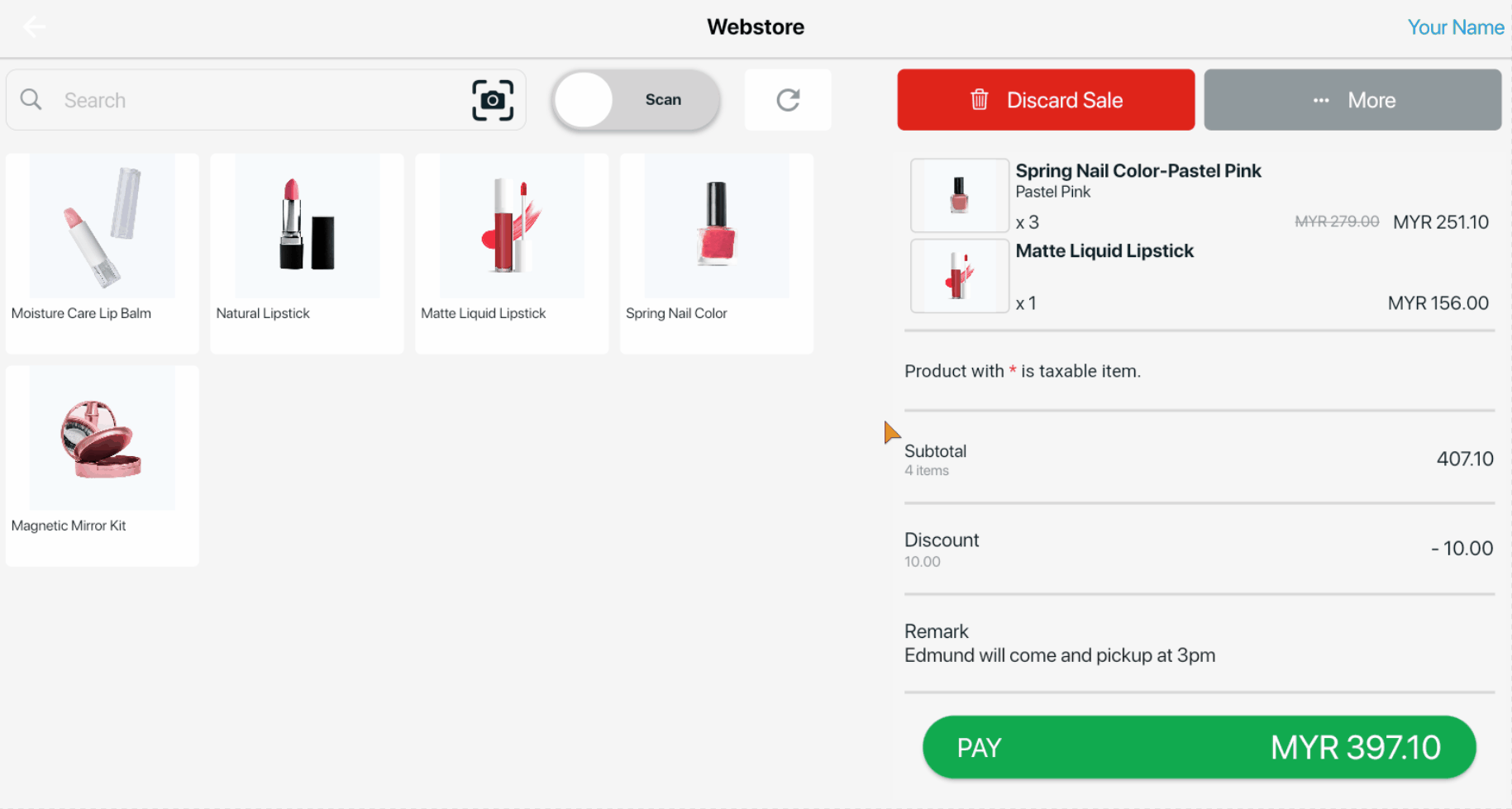 ---
7. Payment
Step 1: Click on Pay button when ready to checkout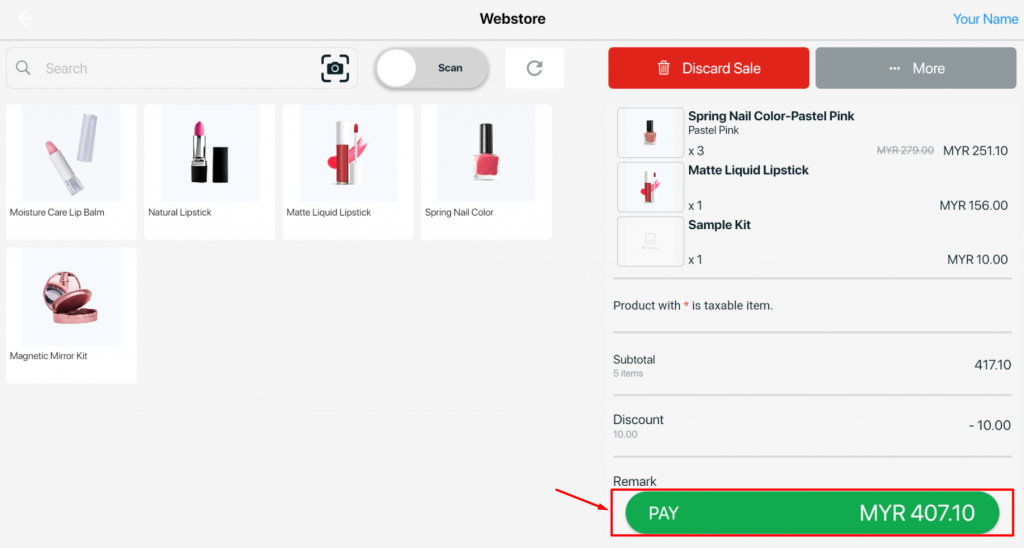 Step 2: Select the payment method between Cash, Credit/ Debit Card and E-wallet
If pay by Cash, enter the amount received from customer > Pay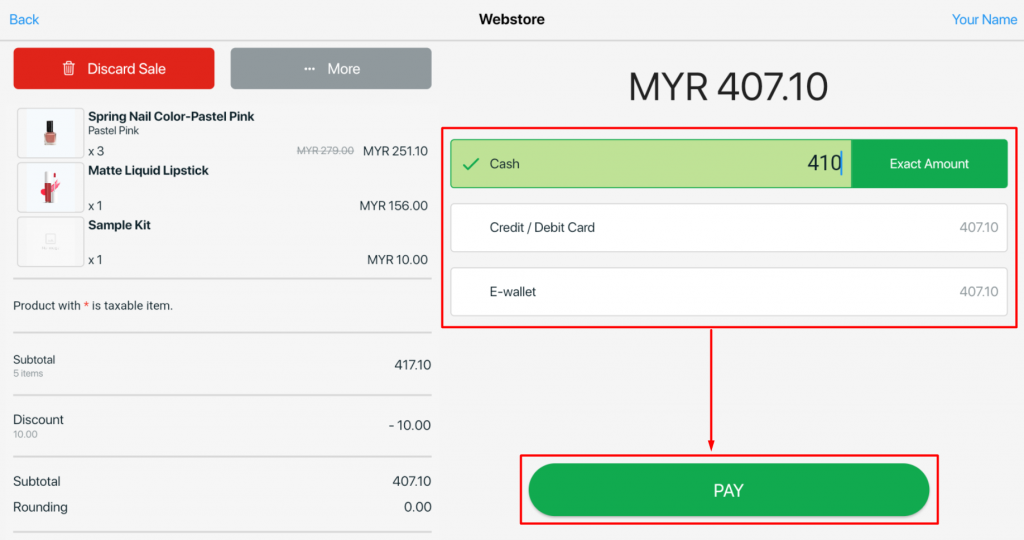 Step 3: The change needed to give back to the customer will be displayed > click on Print Invoice to print A4 size invoice or Bluetooth Print to print out the thermal receipt > Complete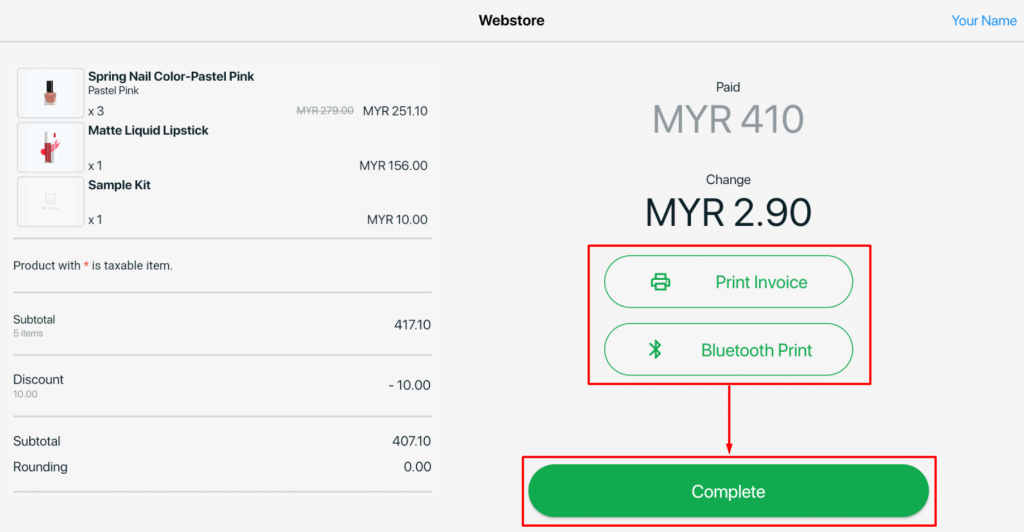 💡Tips: How to Connect SiteGiant POS to a Bluetooth Printer
Step 4: The order can be found in SiteGiant Seller Center > All Orders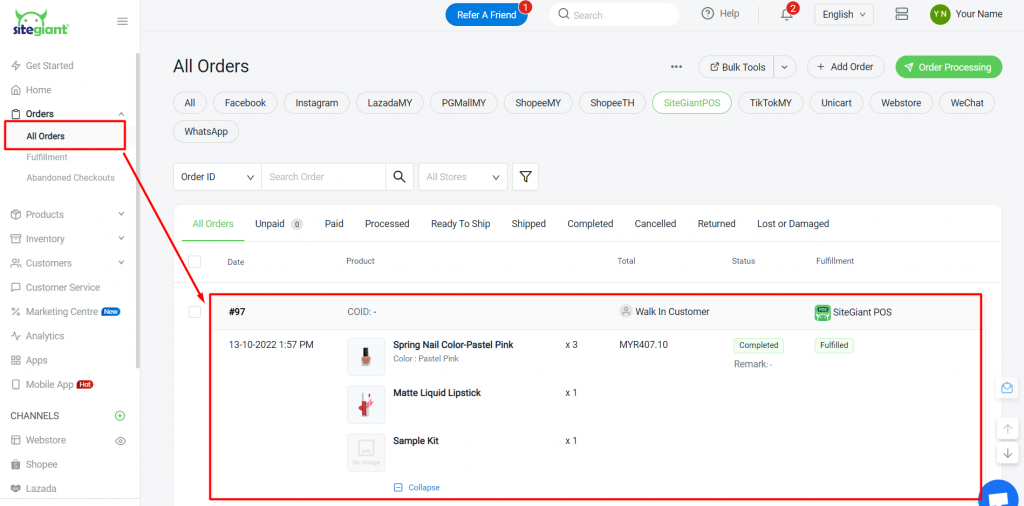 ---
📝Additional Information
You may view all the transactions in SiteGiant POS system by clicking on your Profile > Transaction. You may also reprint the invoice and cancel the order in this page.