1. Introduction
2. Carrier Manifest Settings
3. Add Carrier Manifest
4. Additional Information
1. Introduction
Have you ever faced situations whereby you shipped out orders with canceled status? Or you might have accidentally delivered the orders twice without knowing?
No worries, Carrier Manifest is now able to reduce your business loss by counter-checking your marketplace order statuses before sending them out for delivery and by keeping a record of all your shipped-out orders.
---
2. Carrier Manifest Settings
Step 1: Navigate to Orders > Fulfillment > Carrier Manifest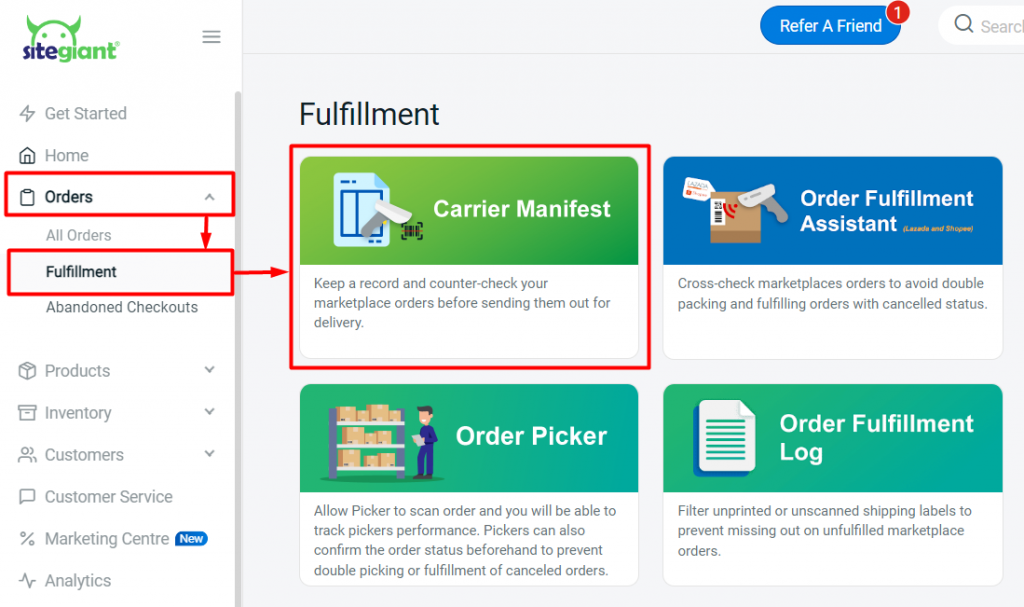 Step 2: Click on the Setting icon to configure the settings

Step 3: Set up as per your preferences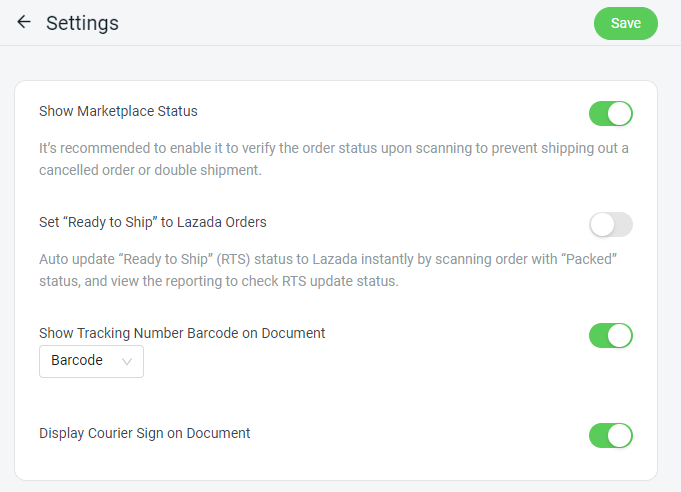 📌Note:
Show Marketplace Status: When enabled, the order status like Ready to Ship, Complete or Cancelled would be shown.

Set "Ready to Ship" to Lazada Orders: When a Lazada order wth "Packed" status is scanned, the system will auto update the order to "Ready to Ship" status.

Show Tracking Number Barcode on Document: Choose whether to show Barcode or QR code beside the tracking number list when printing out the carrier manifest.

Display Courier Sign on Document: To display a Courier Sign section in the Carrier Manifest for courier person to sign upon handling the parcels.
---
2. Add Carrier Manifest
Step 1: Click on + Add New to create a new Carrier Manifest

Step 2: Fill in the Basic info such as Title, Document Title, and Date > select the Channel and Courier Company > click on Start Scan below to start scanning your shipping label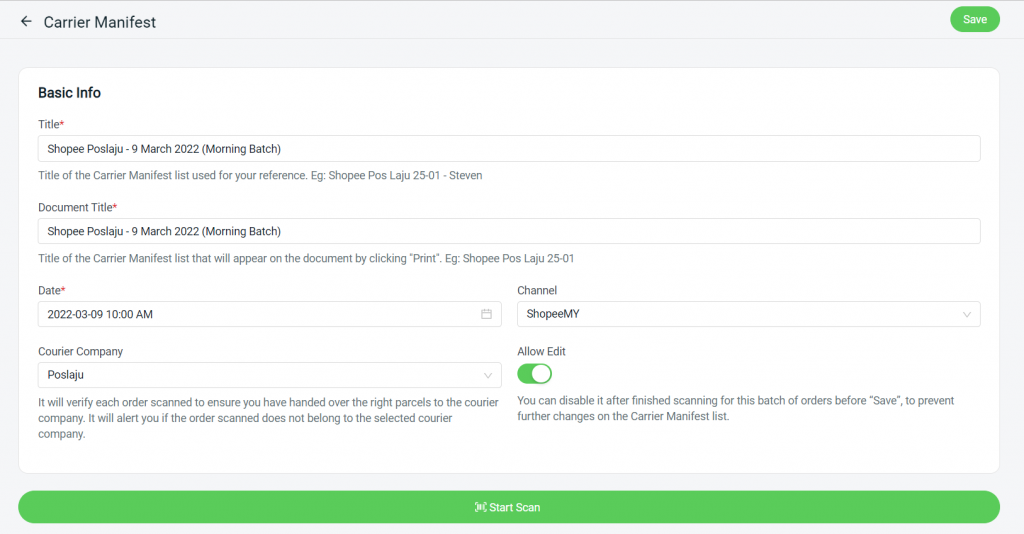 Step 3: The following section will appear and you may start to scan the tracking number on your shipping label

📌Note: If you do not have a barcode scanner, you may enable the typing function to type the tracking number manually

Step 4: Once you scan or type the tracking number, it will be listed below and the status of your order will be displayed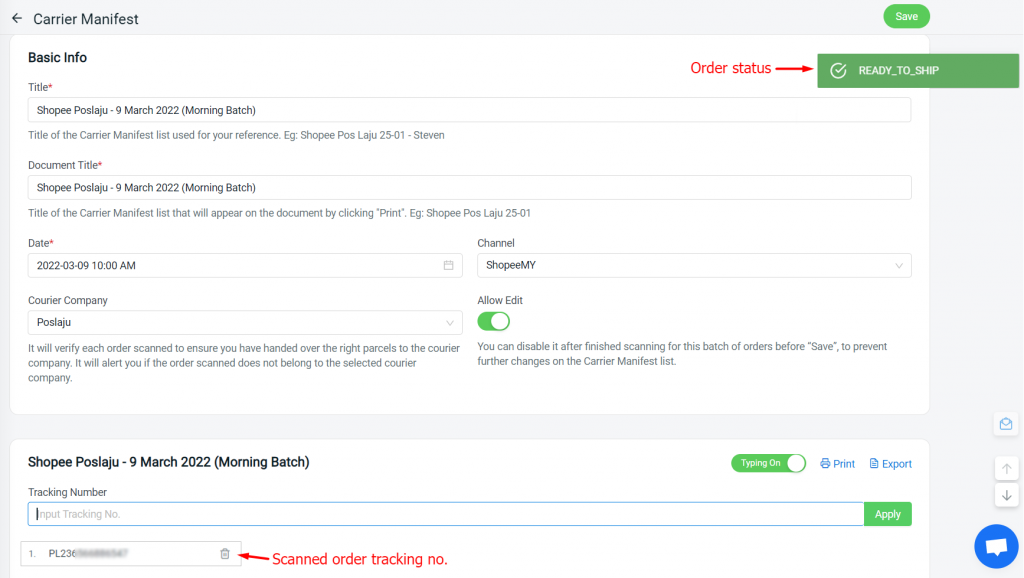 Step 5: When the order is scanned twice or more, a notification will pop up and inform you of duplicated order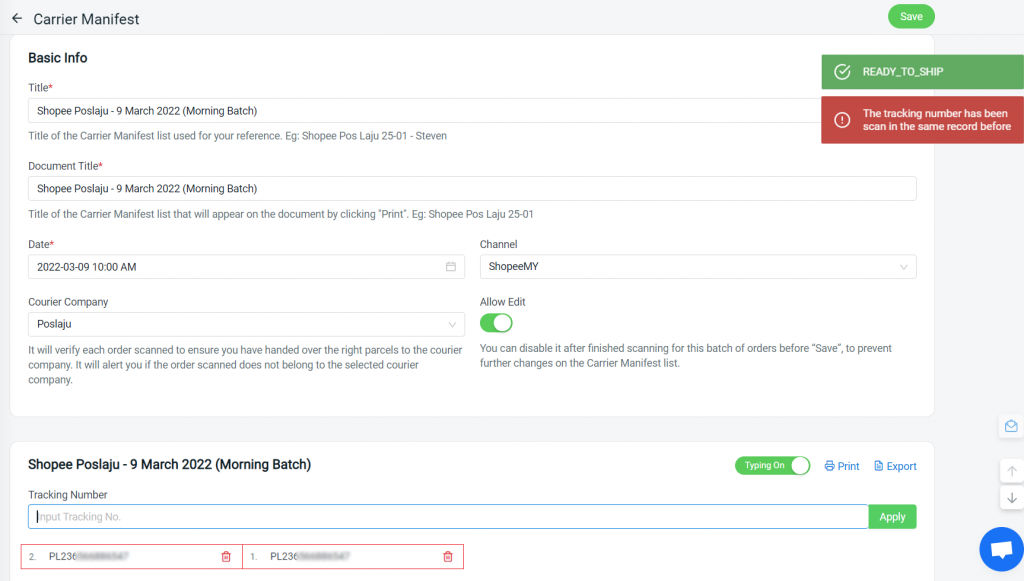 Step 6: If the order has already been canceled, the following status will pop up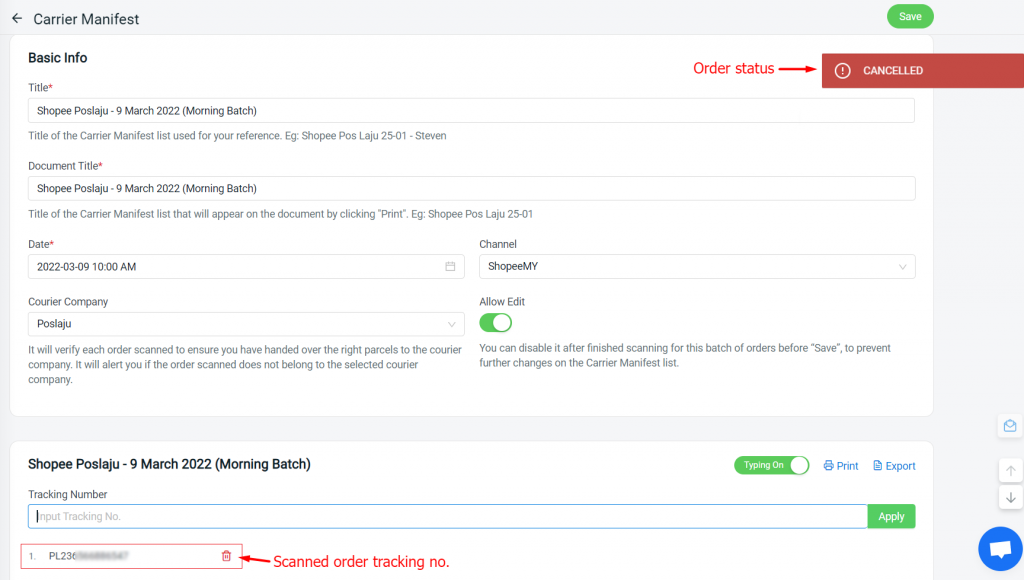 Step 7: If the tracking number scanned does not belong to the selected courier company, then the system will prompt an error warning message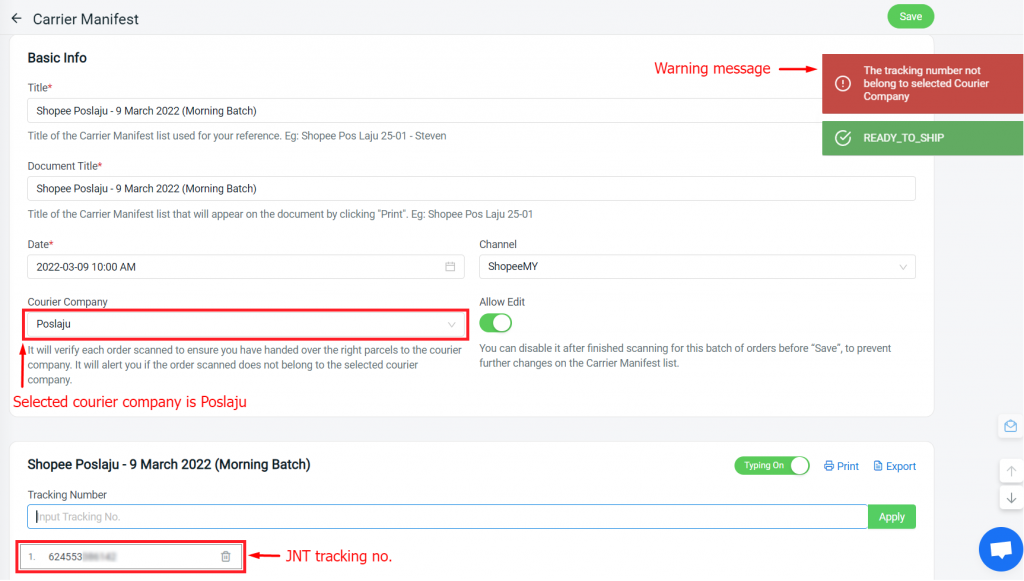 ---
3. Print Carrier Manifest
Step 1: Once done with all shipping labels scanning, click on Print to print out the carrier manifest

Step 2: The carrier manifest will display the print date and total of the parcel for record and checking purposes > you may request the courier person to sign at the column below as proof of parcel handling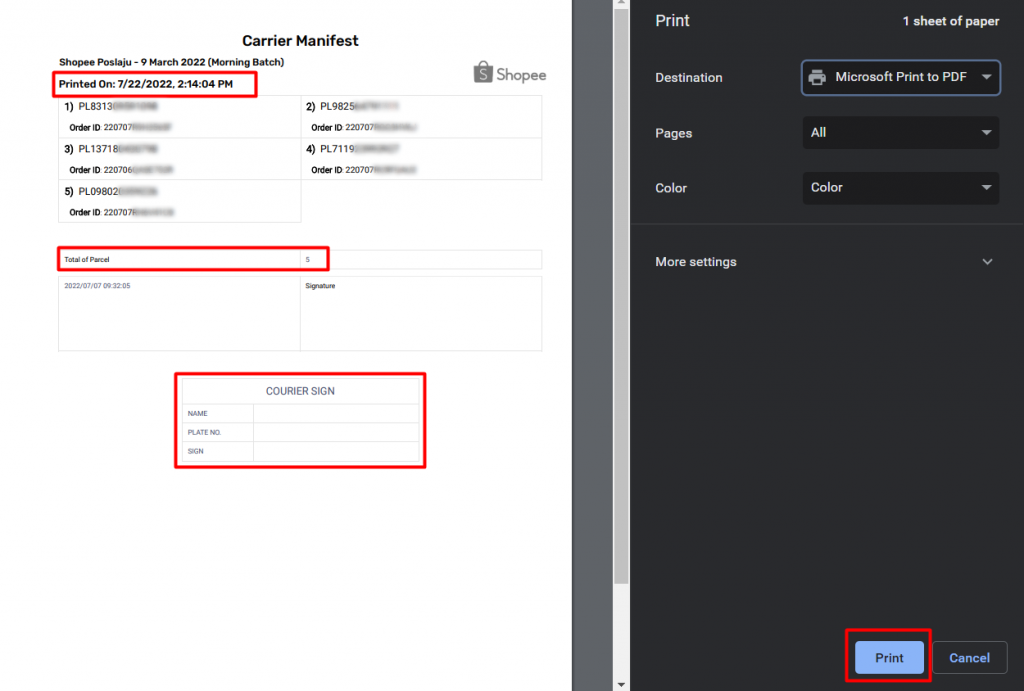 ---
📝Additional Information
1. Export Carrier Manifest
Step 1: Click on the Export button to export the carrier manifest to Excel

Step 2: Click on Export to generate the data > Download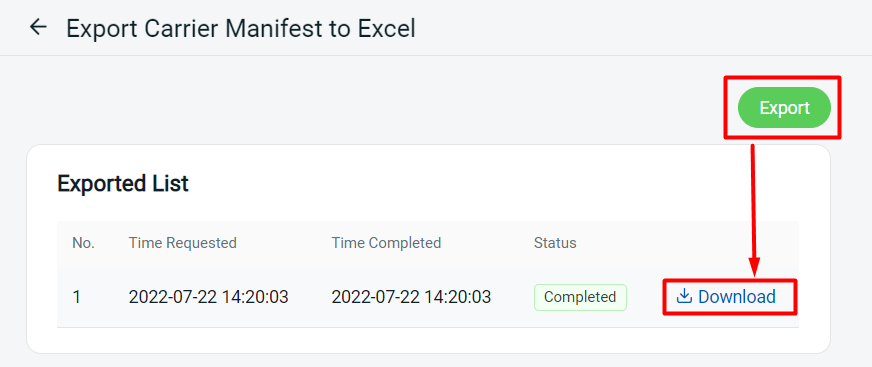 Step 3: Order ID, tracking number and date scanned will be exported out

2. Order Fulfillment Log
You can use Carrier Manifest together with Order Fulfillment Log to cross-check any shipping label is missed out to scan or ship. – How To Use Order Fulfillment Log